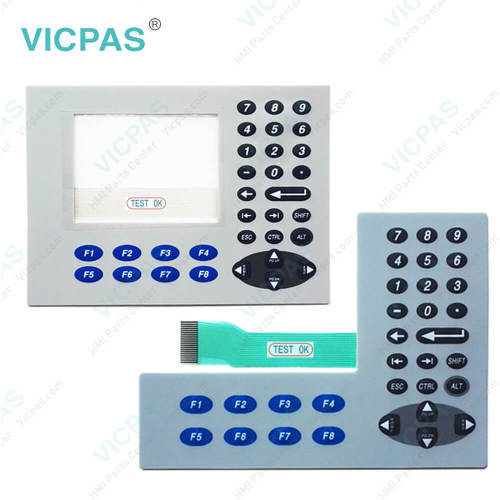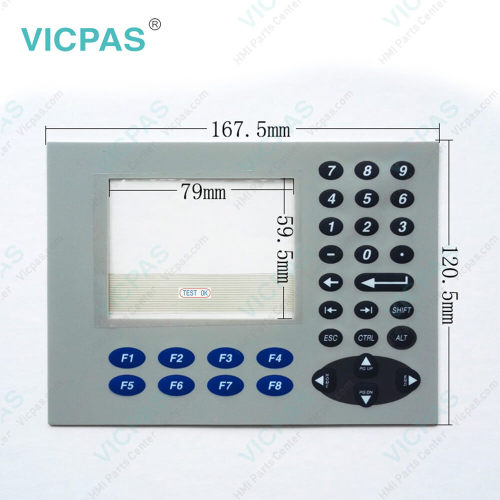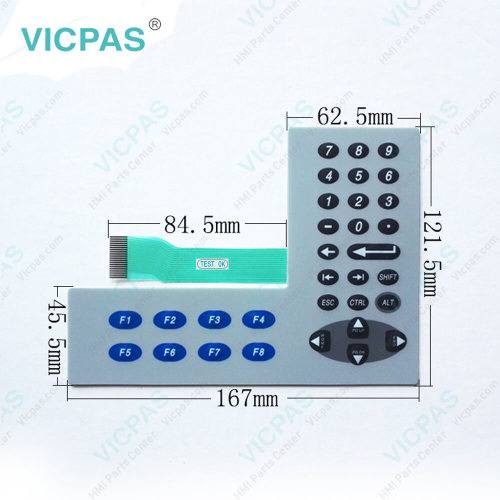 2711P-K4M5A8 PanelView Plus 6 Membrane Keyboard Keypad
Item specifics
Brand

Allen Bradley
Warranty

365 Days
Product Line

PanelView Plus 6
Size

3.8 Inch
Supply

PanelView Plus 6 Membrane Keypad Switch
Parts

2711P-K4M5A8 Membrane Keypad Switch
Description
2711P-K4M5A8 PanelView Plus 6 Membrane Keyboard Keypad Switch Repair Replacement

The Allen-Bradley 2711P-K4M5A8 PanelView operates with a power input range of 18 to 30 Volts DC. It is recommended to mount the terminal in a vertical position and to avoid placing the terminal on the west side of the cabinet where it can receive direct sunlight since high temperatures could damage the screen and other important parts of the terminal.This terminal has a memory of 64 megabytes. The Allen-Bradley 2711P-K4M5A8 PanelView features a 3.5 inches color display and a keypad as an input mechanism. This input mechanism enables operators to input values and changes data in order to control the process. Through this PanelView, they can also consult and check several parts and variables of the process without the need of being in the exact same place. All the USB ports from this terminal comply with hazardous locations environments in accordance with the National Electrical Code, article 500.
VICPAS supply Panelview Plus 6 2711P-K4M5A8 membrane keypad switch for repair replacement, make the HMI running. We provide a 365 days VICPAS warranty of the most product, which include most of touch screen panel, membrane keypad, LCD display and protective case shell housing.
The 2711P-K4M5A8 is a PanelView manufactured and designed by Allen-Bradley. This PanelView belongs to the PanelView 6 series, which provides full-color displays with multiple input and communication options. This PanelView has been designed to operate in hazardous locations.
This PanelView is intended for hazardous locations, it can withstand a maximum temperature of 55 degrees Celsius. It is recommended that the terminal is not installed in environments where atmospheric gases could have ignition at a temperature of 135 degrees Celsius. When it comes to communications, the Allen-Bradley 2711P-K4M5A8 PanelView provides Ethernet, RS-232 & USB plus communication module interface. Through USB connection users can attach other devices such as a mouse, printer, keyboard, barcode reader, among others.
Specifications:
The table below describes the parameters of the 2711P-K6C20A PanelView Plus 6 membrane keyboard keypad switch.
| | |
| --- | --- |
| Part Number : | 2711P-K4M5A8 |
| Product Line: | PanelView 6 |
| Screen diagonal | 3.5 in |
| Warranty: | 180 Days Warranty |
| Input Power | 24 VDC |
| | |
| --- | --- |
| Display Color | Color |
| Input Power | AC |
| Input Type: | Keypad |
| Communication: | Remote I/O and RS-232 Printer Port |
| Software | FactoryTalk View ME |
Related PanelView Plus 6 Series Part No. :
| | | |
| --- | --- | --- |
| PanelView Plus 6 HMI | Description | Inventory status |
| 2711P-K4C5A8 | Allen Bradley Panel Plus 6 Membrane Keypad | In Stock |
| 2711P-K4C5D8 | Allen Bradley Panel View Plus 6 Keypad Repalcement | In Stock |
| 2711P-K4C20A8 | PanelView Plus 6 Membrane Switch Replacement Kit | In Stock |
| 2711P-K4C20D8 | PanelView Plus 6 Membrane Keyboard Keypad Repair | In Stock |
| 2711P-K4M5A8 | PanelView Plus 6 Membrane Keypad Switch Repair Kit | Available Now |
| 2711P-K4M5D8 | Allen Bradley PanelView Plus 6 Operator Panel Keypad Replacement | In Stock |
| 2711P-K4M20A8 | PanelView Plus 6 Operator Keyboard Replacement | Available Now |
| 2711P-K4M20D8 | Allen Bradley Panel View Plus 6 Keyboard Membrane | In Stock |
| 2711P-K6C5A8 | PanelView Plus 6 Membrane Keyboard Repair Kit Plastic Shell LCD | In Stock |
| 2711P-K6C5A9 | PanelView Plus 6 Membrane Keyboard Keypad LCD Display Case | Available Now |
| 2711P-K6C5D8 | Allen Bradley Panel View Plus 6 Keypad Plastic Case LCD Display Screen | In Stock |
| 2711P-K6C5D9 | PanelView Plus 6 Switch Membrane HMI Case LCD Display Screen | In Stock |
| 2711P-K6C20A8 | PanelView Plus 6 Touch Screen Keypad Front Cover LCD Display Panel | Available Now |
| 2711P-K6C20A9 | Allen Bradley PanelView Plus 6 Membrane Keyboard Plastic Case LCD Screen | In Stock |
| 2711P-K6C20D8 | PanelView Plus 6 Membrane Keyboard Keypad Housing LCD Display Screen | Available Now |
| 2711P-K6C20D9 | Allen Bradley Panel View Plus 6 Operator Panel Keypad Front Cover LCD | In Stock |
| 2711P-K6M5A8 | Allen Bradley Panel View Plus 6 Keypad Plastic Shell LCD Screen | In Stock |
| 2711P-K6M5D | PanelView Plus 6 Membrane Switch Plastic Case LCD Display | In Stock |
| 2711P-K6M5D8 | PanelView Plus 6 Switch Membrane HMI Case LCD Display Screen | In Stock |
| AB PanelView Plus 6 | Description | Inventory status |
Common misspellings:
2711PK4M5A8
27l1P-K4M5A8
271lP-K4M5A8
2711P-KM5A8
2711P-K4M5AB