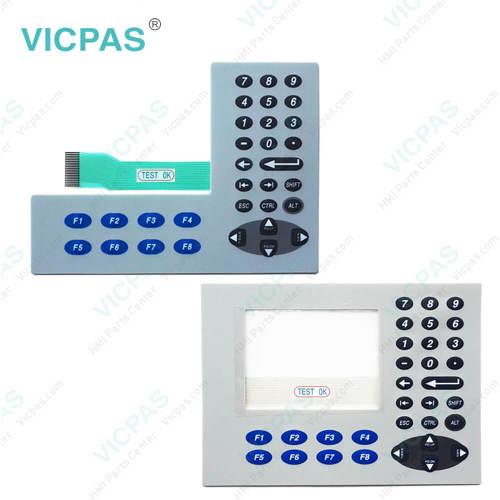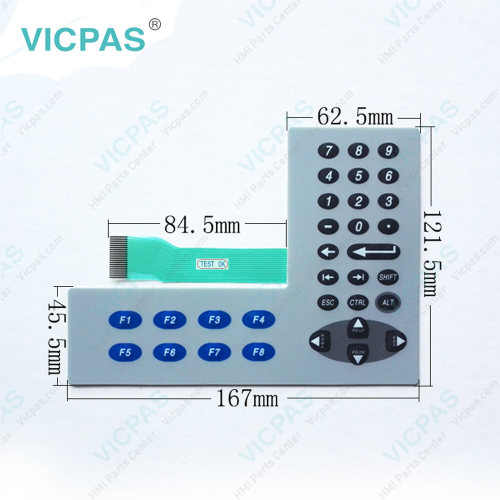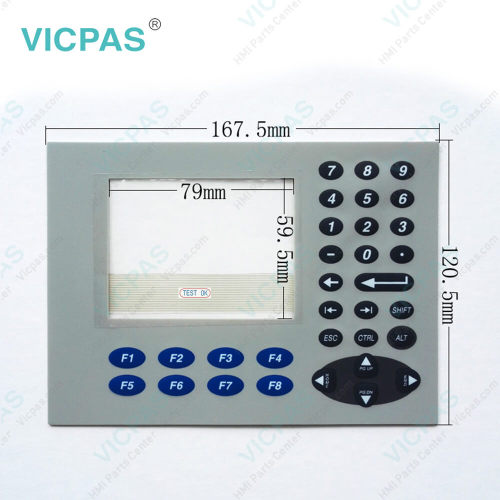 2711P-K4C5D8 PanelView Plus 6 Membrane Keyboard Keypad
Item specifics
Brand

Allen Bradley
Warranty

365 Days
Product Line

PanelView Plus 6
Size

3.8 Inch
Supply

PanelView Plus 6 Membrane Keypad Switch
Parts

2711P-K4C5D8 Membrane Keypad Switch
Description
2711P-K4C5D8 PanelView Plus 6 Membrane Keyboard Keypad Switch Repair Replacement

VICPAS supply Panelview Plus 6 2711P-B4C3D membrane keypad switch for repair replacement, make the HMI running. We provide a 365 days VICPAS warranty of the most product, which include most of touch screen panel, membrane keypad, LCD display and protective case shell housing.
The Allen-Bradley 2711P-B4C3D terminal is part of the PanelView Plus 6 Key/TouchRS-232/DH-485/Enet series of DC terminals. Its product line is the Panelview Plus 6 line. The 2711P-B4C3D has several useful features and specifications. It has a touchscreen input that comes with a display size of 3.5 inches. The touchscreen also has color graphics and there is a DH-485 Port Communication port for connecting the 2711P-B4C3D to other machines. It has DC input power and the FactoryTalk View ME software. It has a 64-MB memory and it comes in a variety of series including Series A, B, C, D, and E. The firmware it can use is versions 3.20-5.10.
The 2711P-B4C3D terminal comes with a keypad as well as a touchscreen for inputs. The keypad is designed to be used with safety materials or by operators wearing work gloves. The keypad comes with a polyester or polycarbonate membrane for protection. Dust and residue cannot interfere with the touchscreen because it has been made dust/residue resistant. The 2711P-B4C3D allows the user to access a graphic interface for instant work. An automation update can also be done quickly and efficiently if the graphics interface is accessed because it has reliable independent control. The user does not need to make any additions to its HMI. The product has an operating voltage of 35V DC and an operating current of 100mA 1W. The actuation rating depends on the user's/customer's requirement. The 2711P-B4C3D has a life cycle of up to 5 million cycles for efficient functioning.
Specifications:
The table below describes the parameters of the 2711P-K4C5D8 PanelView Plus 6 membrane keyboard keypad switch.
| | |
| --- | --- |
| Part Number : | 2711P-K4C5D8 |
| Product Line: | PanelView 6 |
| Screen diagonal | 3.5 in |
| Warranty: | 180 Days Warranty |
| Input Power | 24 VDC |
| | |
| --- | --- |
| Display Color | Color |
| Input Power | AC |
| Input Type: | Keypad |
| Communication: | Remote I/O and RS-232 Printer Port |
| Software | FactoryTalk View ME |
Related PanelView Plus 6 Series Part No. :
| | | |
| --- | --- | --- |
| PanelView Plus 6 HMI | Description | Inventory status |
| 2711P-K4C5A8 | Allen Bradley Panel Plus 6 Membrane Keypad | In Stock |
| 2711P-K4C5D8 | Allen Bradley Panel View Plus 6 Keypad Repalcement | In Stock |
| 2711P-K4C20A8 | PanelView Plus 6 Membrane Switch Replacement Kit | In Stock |
| 2711P-K4C20D8 | PanelView Plus 6 Membrane Keyboard Keypad Repair | In Stock |
| 2711P-K4M5A8 | PanelView Plus 6 Membrane Keypad Switch Repair Kit | Available Now |
| 2711P-K4M5D8 | Allen Bradley PanelView Plus 6 Operator Panel Keypad Replacement | In Stock |
| 2711P-K4M20A8 | PanelView Plus 6 Operator Keyboard Replacement | Available Now |
| 2711P-K4M20D8 | Allen Bradley Panel View Plus 6 Keyboard Membrane | In Stock |
| 2711P-K6C5A8 | PanelView Plus 6 Membrane Keyboard Repair Kit Plastic Shell LCD | In Stock |
| 2711P-K6C5A9 | PanelView Plus 6 Membrane Keyboard Keypad LCD Display Case | Available Now |
| 2711P-K6C5D8 | Allen Bradley Panel View Plus 6 Keypad Plastic Case LCD Display Screen | In Stock |
| 2711P-K6C5D9 | PanelView Plus 6 Switch Membrane HMI Case LCD Display Screen | In Stock |
| 2711P-K6C20A8 | PanelView Plus 6 Touch Screen Keypad Front Cover LCD Display Panel | Available Now |
| 2711P-K6C20A9 | Allen Bradley PanelView Plus 6 Membrane Keyboard Plastic Case LCD Screen | In Stock |
| 2711P-K6C20D8 | PanelView Plus 6 Membrane Keyboard Keypad Housing LCD Display Screen | Available Now |
| 2711P-K6C20D9 | Allen Bradley Panel View Plus 6 Operator Panel Keypad Front Cover LCD | In Stock |
| 2711P-K6M5A8 | Allen Bradley Panel View Plus 6 Keypad Plastic Shell LCD Screen | In Stock |
| 2711P-K6M5D | PanelView Plus 6 Membrane Switch Plastic Case LCD Display | In Stock |
| 2711P-K6M5D8 | PanelView Plus 6 Switch Membrane HMI Case LCD Display Screen | In Stock |
| AB PanelView Plus 6 | Description | Inventory status |
Common misspellings:
2711PK4C5D8
27l1P-K4C5D8
271lP-K4C5D8
2711P-K4C5DB
2711P-KAC5D8