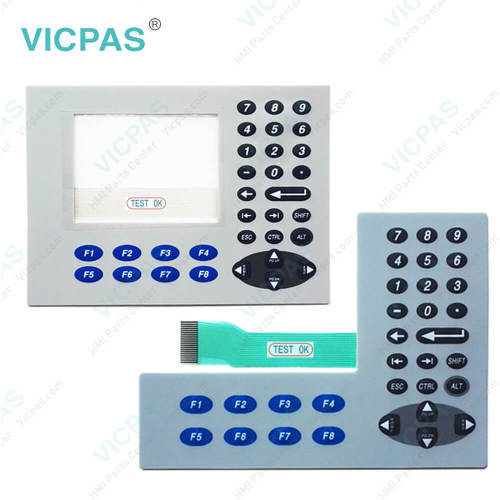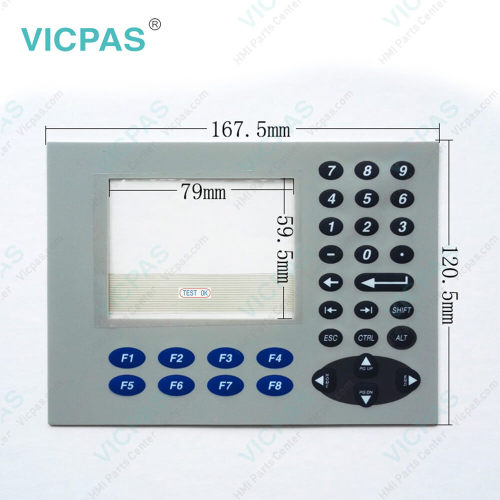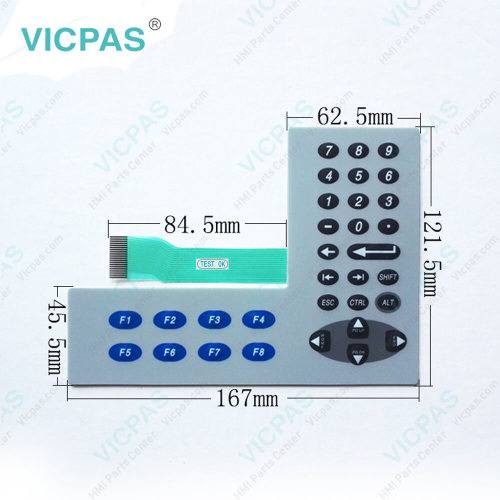 2711P-K4C20A8 PanelView Plus 6 Membrane Keyboard Keypad
Item specifics
Brand

Allen Bradley
Warranty

365 Days
Product Line

PanelView Plus 6
Size

3.8 Inch
Supply

PanelView Plus 6 Membrane Keypad Switch
Parts

2711P-K4C20A8 Membrane Keypad Switch
Description
2711P-K4C20A8 PanelView Plus 6 Membrane Keyboard Keypad Switch Repair Replacement

The 2711P-K4C20A8 is a PanelView Plus 6 color display that is manufactured by Allen-Bradley. The 2711P-K4C20A8 features 3.5 inches display size and it comes as a color keypad input screen. The 2711P-K4C20A8 features a DH-485 port communication type and an Ethernet communication interface. The 2711P-K4C20A8 comes with an AC power input with the FactoryTalk View ME software type. It is a 64 MB memory display and features the version 3.2 to 5.10 firmware. The 2711P-K4C20A8, and all the PanelView plus terminals run on the Windows CE operating system. The operating system has elements that meet the major user needs and additional functionality is also available through the ordering of terminals with optional extended features. The PanelView controller terminals come with ControlNet communication ports. These include a network application port which is the port for temporarily connecting the programming terminals to the devices on a ControlNet network.
VICPAS supply Panelview Plus 6 2711P-K4C20A8 membrane keypad switch for repair replacement, make the HMI running. We provide a 365 days VICPAS warranty of the most product, which include most of touch screen panel, membrane keypad, LCD display and protective case shell housing.
The PanelView terminals come with temperature code of T4 while operating at 55 degrees Celsius as the maximum ambient temperature. The 2711P-K4C20A8 should not be installed in environments where the atmospheric gases have an ignition temperature that is below 135 degrees Celsius. The Panelview Plus terminals come as human-machine interface devices, providing various features that include a grayscale graphics display and also a keypad input. The communication modules offer add-on capability to the base-configured units with a modular communication interface. The 2711P-K4C20A8 has CompactFlash card slot that supports the Type 1 Compact Flash cards. The 2711P-K4C20A8 also has a USB port that can be used for attaching a keyboard, mouse, printer barcode scanner, and other devices as well.
Specifications:
The table below describes the parameters of the 2711P-K4C20A8 PanelView Plus 6 membrane keyboard keypad switch.
| | |
| --- | --- |
| Part Number : | 2711P-K4C20A8 |
| Product Line: | PanelView 6 |
| Screen diagonal | 3.5 in |
| Warranty: | 180 Days Warranty |
| Input Power | 24 VDC |
| | |
| --- | --- |
| Display Color | Color |
| Input Power | AC |
| Input Type: | Keypad |
| Communication: | Remote I/O and RS-232 Printer Port |
| Software | FactoryTalk View ME |
Related PanelView Plus 6 Series Part No. :
| | | |
| --- | --- | --- |
| PanelView Plus 6 HMI | Description | Inventory status |
| 2711P-K4C5A8 | Allen Bradley Panel Plus 6 Membrane Keypad | In Stock |
| 2711P-K4C5D8 | Allen Bradley Panel View Plus 6 Keypad Repalcement | In Stock |
| 2711P-K4C20A8 | PanelView Plus 6 Membrane Switch Replacement Kit | In Stock |
| 2711P-K4C20D8 | PanelView Plus 6 Membrane Keyboard Keypad Repair | In Stock |
| 2711P-K4M5A8 | PanelView Plus 6 Membrane Keypad Switch Repair Kit | Available Now |
| 2711P-K4M5D8 | Allen Bradley PanelView Plus 6 Operator Panel Keypad Replacement | In Stock |
| 2711P-K4M20A8 | PanelView Plus 6 Operator Keyboard Replacement | Available Now |
| 2711P-K4M20D8 | Allen Bradley Panel View Plus 6 Keyboard Membrane | In Stock |
| 2711P-K6C5A8 | PanelView Plus 6 Membrane Keyboard Repair Kit Plastic Shell LCD | In Stock |
| 2711P-K6C5A9 | PanelView Plus 6 Membrane Keyboard Keypad LCD Display Case | Available Now |
| 2711P-K6C5D8 | Allen Bradley Panel View Plus 6 Keypad Plastic Case LCD Display Screen | In Stock |
| 2711P-K6C5D9 | PanelView Plus 6 Switch Membrane HMI Case LCD Display Screen | In Stock |
| 2711P-K6C20A8 | PanelView Plus 6 Touch Screen Keypad Front Cover LCD Display Panel | Available Now |
| 2711P-K6C20A9 | Allen Bradley PanelView Plus 6 Membrane Keyboard Plastic Case LCD Screen | In Stock |
| 2711P-K6C20D8 | PanelView Plus 6 Membrane Keyboard Keypad Housing LCD Display Screen | Available Now |
| 2711P-K6C20D9 | Allen Bradley Panel View Plus 6 Operator Panel Keypad Front Cover LCD | In Stock |
| 2711P-K6M5A8 | Allen Bradley Panel View Plus 6 Keypad Plastic Shell LCD Screen | In Stock |
| 2711P-K6M5D | PanelView Plus 6 Membrane Switch Plastic Case LCD Display | In Stock |
| 2711P-K6M5D8 | PanelView Plus 6 Switch Membrane HMI Case LCD Display Screen | In Stock |
| AB PanelView Plus 6 | Description | Inventory status |
Common misspellings:
2711PK4C20A8
27l1P-K4C20A8
271lP-K4C20A8
2711P-KAC20A8